An exclusive, anti-plaque toothbrush that works with the AP-24 system of oral care products, designed to promote superior dental health care, including the removal and prevention of plaque build-up. The new AP-24 Anti-Plaque Toothbrush incorporates a channel bristle technology that helps remove 15% more plaque from tooth surfaces.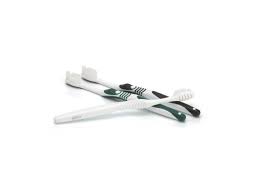 BENEFITS
First toothbrush on the market with new channel bristle technology.
Removes 15% more plaque than round bristle toothbrush.
Holds more toothpaste against teeth during brushing.
Helps fight plaque, one of the contributors to bad breath and cavities.
Gently massages gums.
Use with AP-24 toothpastes to reduce plaque build up.
Hand friendly shape with grip pads.
Competitively priced.
Available in three colors (black, green, white) in the 3-pack.
USAGE
Brush after each meal or at least twice a day, or as directed by a dentist or physician..