ageLOC LumiSpa Accent Head & IdealEyes – Verhelderende oogcrème en opzetstuk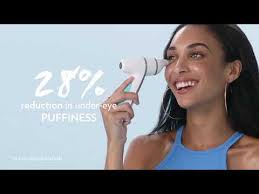 Word je moe van er moe uitzien? Dan is het misschien tijd om wat oogverzorging aan je schoonheidsroutine toe te voegen. Wij hebben precies wat je nodig hebt.
ageLOC LumiSpa Accent Head & IdealEyes, de verhelderende oogcrème van Nu skin en een uniek opzetstuk om je er fris en klaarwakker uit te laten zien.
Het perfecte opzetstuk voor je ageLOC LumiSpa. Dankzij ons bekroonde huidverzorgingsapparaat, de LumiSpa Accent Head met zijn siliconen uiteinde kun je moeilijk bereikbare plekken aanpakken en de gevoelige huid rond je ogen exfoliëren en revitaliseren. De combinatie van Accent & IdealEyes vermindert het verschijnen van donkere kringen, wallen en gezwollen oogleden, verstevigt de huid en lift de oogleden.

Perfecte partner voor het LumiSpa-apparaat

Vermindert het verschijnen van donkere kringen en wallen

Versterkt de huid rondom de ogen
Waarom je er dol op zult zijn

77% zag dat de tekenen van vermoeidheid rond de ogen na 12 weken waren verminderd*

80% vond dat de ogen er verfrist en klaarwakker uitzagen*

85% gaf aan dat de huid zacht, glad aanvoelde en er stralend uitzag*
De bovenstaande verklaringen zijn verkregen uit onafhankelijke professionele evaluaties, waaronder een klinische beoordeling:
*ageLOC Accent & IdealEyes: Deze resultaten zijn gebaseerd op een in vivo onderzoek van 12 weken onder 30 vrouwen tussen de 25 en 65 jaar oud die een verslapte huid of fijne lijntjes en rimpels hadden rond de ogen. ageLOC LumiSpa IdealEyes werd aangebracht op de huid rond de ogen en de ageLOC LumiSpa Accent werd 30 seconden lang gebruikt op beide oogzones, tweemaal per dag. Het onderzoek omvatte zelfbeoordelingen van de deelnemers, een klinische beoordeling en instrumentatie-evaluaties.
Waarom zou ik het moeten gebruiken?
De gevoelige huid rondom de ogen kan verschillende zichtbare tekenen van veroudering vertonen. Deze fantastische combi met ageLOC LumiSpa Accent Head & IdealEyes kan ertoe bijdragen:
je er verfrist en wakkerder uit te laten zien;
het verschijnen van donkere kringen te verminderen;
de huid er steviger uit te laten zien;
de zichtbare tekenen van een vermoeide, gestresste huid te verminderen;
de oogleden zichtbaar te liften en verstevigen;
het verschijnen van gezwollen ogen en wallen onder de ogen te verminderen.
Hoe moet ik het gebruiken?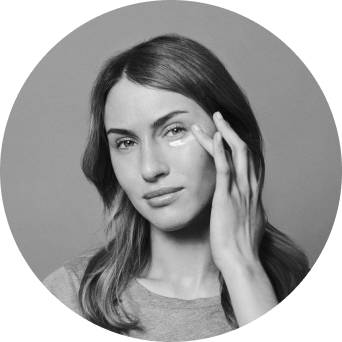 STAP ÉÉN
Breng ageLOC LumiSpa IdealEyes zacht aan op een schone huid, onder je wenkbrauwen, op plekken waar kraaienpootjes ontstaan en onder je ogen. Vermijd rechtstreeks contact met de ogen of oogleden.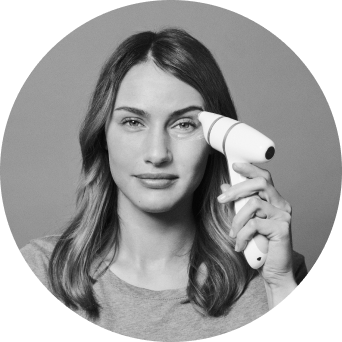 STAP TWEE
Lijn de achterkant van de Accent Head uit met de as van je apparaat en druk erop totdat het vastklikt. Masseer voor een optimale oogverzorging elke oogzone tweemaal per dag gedurende 30 seconden met de ageLOC LumiSpa Accent. Schakel je LumiSpa-apparaat na 1 minuut uit.
ONTHOUD:
Reinig en droog je apparaat na gebruik.
Vervang je siliconen uiteinde om de 3 maanden voor een optimale en meer hygiënische ervaring.
Wat maakt het zo bijzonder?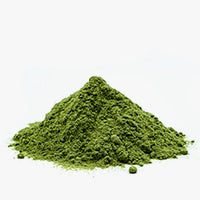 Chlorella-extract – helpt het verschijnen van donkere kringen te verminderen en de huid te verstevigen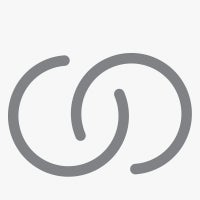 ageLOC-mix- pakt de zichtbare teken van huidveroudering bij de bron aan
Volledige ingrediëntenlijst
Aqua, Glycerine, Dicaprylyl Carbonaat, Tribehenin PEG-20 Esters, Dimethicon, Squalaan, Cetearylalcohol, Cyclopentasiloxaan, Octyldodecanol, C12-15 Alkylbenzoaat, Butyleenglycol, Capryl/Capric Triglyceride, Tetrahexyldecyl Ascorbaat, Geranylgeranylisopropanol, Pentyleenglycol, PEG-8, Natriumlactaat, Hexyleenglycol, Cyclohexasiloxaan, Tribehenin, Ribes Nigrum Zaadolie, Gehydrogeneerde Lecithine, Kappaphycus Alvarezii Extract, Helianthus Annuus Zaadolie Unsaponifiables, Caprylyl Glycol, Hydroxyphenyl Propamidobenzoic Acid, Palmitoyl Hexapeptide-12, Palmitoyl Tripeptide-1, Palmitoyl Tetrapeptide-7, Cafeïne, Bisabolol, Ceramide NG, Chlorella Vulgaris Extract, Adenosine, Cardiospermum Halicacabum Bloem-/Blad-/Wijnstokextract, Helianthus Annuus Zaadolie, Schizandra Chinensis Fruitextract, Narcissus Tazetta Bolextract, Darutoside, Rosmarinus Officinalis Bladextract, Caesalpinia Spinosa Fruitextract, Xanthan Gom, Glycerylacrylaat/Acrylzuur Copolymeer, Carbomeer, Natrium Methyl Stearoyl Tauraat, PEG-10 Fytosterol, Polysorbaat 20, Gehydrogeneerde Fosfatidylcholine, Albizia Julibrissin Schorsextract, Natriumhydroxide, Melkzuur, Hydroxytetofenon, Tocoferol, Ascorbylpalmitaat, Chloorfenesine, Fenoxyethanol, Natriumbenzoaat, Kaliumsorbaat.