Maakt uw tanden stralend wit en gaat tegelijkertijd plaquevorming tegen. Door de speciale formule die geen schadelijke peroxiden bevat, helpt AP-24 Whitening Fluoride Toothpaste ook vlekken te verwijderen en gaatjes te voorkomen.
BELANGRIJKE BESTANDDELEN
Speciale witmakende formule – om de tanden op milde wijze helder te maken.
AP-24 – een gepatenteerde ultra-emulsie van medische kwaliteit dimethicon met een hoog moleculair gewicht en surfactanten (Poloxamer 407 en Poloxamer 338).
GEBRUIK
Poets de tanden grondig, bij voorkeur na iedere maaltijd of ten minste twee keer per dag, of zoals voorgeschreven door uw (tand)arts. Gebruik voor kinderen van zes jaar of jonger niet meer tandpasta dan de grootte van een erwt. Zorg dat ze zo weinig mogelijk tandpasta inslikken. Raadpleeg een (tand)arts als uw kind fluoride in een andere vorm gebruikt.
Bevat natriummonofluorofosfaat. Buiten bereik houden van kinderen onder de zes jaar.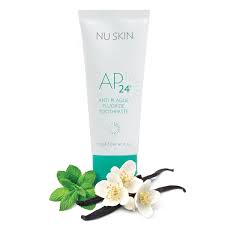 INGREDIËNTEN
Aqua, Hydrated Silica, Sorbitol, Aluminum Hydroxide, Glycerin,  Tetrasodium Pyrophosphate, PEG-12, Sodium Monofluorophosphate, Sodium Lauryl Sulfate, Dimethicone, Poloxamer 338, Poloxamer 407, Cellulose Gum, Sodium Sulfate, Sodium Saccharin, Sodium Oxide, Flavor, BHT, CI 77891, Limonene