Deze kit bevat alles wat je nodig hebt om je huid te verzorgen in de zon, of je nu wilt genieten van de zomerzon of een mooie winterdag op de ski's.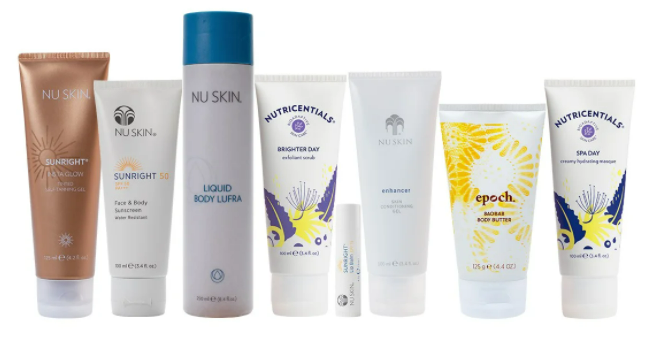 Het bevat producten van merken als Sunright, Epoch en Nutricentials, en is dan ook een fantastische manier om kennis te maken met een aantal van onze populairste lijnen.
Beter nog, de kit is ook een fantastisch verkoopinstrument.
Deze kit bevat:
1 x Sunright Insta Glow Tinted Self-Tanning Gel
1 x Sunright 50 Face & Body Sunscreen
1 x Liquid Body Lufra
1x Nutricentials Brighter Day Exfoliant Scrub
1 x Sunright Lip Balm SPF 15
1 x Nu Skin Enhancer
1 x Epoch Baobab Body Butter*
1 x Nutricentials Spa Day Creamy Hydrating Masque
*Epoch Baobab Body Butter wordt in Europa verkocht in een tijdelijke tube van 34% gerecycled plastic met een schroefdop.